RESTAURANT HOOD CLEANING OAHU
HOODS | EXHAUST FANS | DUCTS | KITCHEN EQUIPMENT
NFPA 96 | BARE METAL CLEAN
NOW ACCEPTING NEW CUSTOMERS FOR December, January, February 2023
Get Scheduled For A FREE Quote In Minutes Not Hours!
We Will Challenge Any Licensed Competitor's Written Price.
Aloha!
We are Oahu Hood Cleaning a.k.a. the grease-busters located in Honolulu, Hawaii.
We make an honest living cleaning and maintaining the tough grease that builds up on your shiny stainless steel money makers.  We understand that no kitchen equipment means no food.  No food means no money.  No money means no good.
But enough about us, you need hood cleaning services!
Call us if you need reliable and affordable commercial kitchen cleaning services for anything involving Oahu kitchen exhaust hood cleaning, kitchen equipment de-greasing, hood cleaning Oahu, kitchen exhaust fan cleaning, exhaust fan de-greasing, hood cleaning Honolulu, commercial kitchen equipment cleaning companies on Oahu, and kitchen hood cleaning & degreasing services on Oahu.
We're guilty of excellent customer service, honesty, and having the best prices.  We service the entire island of Oahu.
Call for a free quote or if you have a question, we'd be happy to help you and tell you what we know.
GET A GUARANTEED CALL BACK
FROM THE OWNER
We do the dirty work and clean your exhaust hoods to keep you operational and compliant.
Everything from the filters to the exhaust flue to the fans.  100% de-greased and cleaned.
Kitchen Equipment Cleaning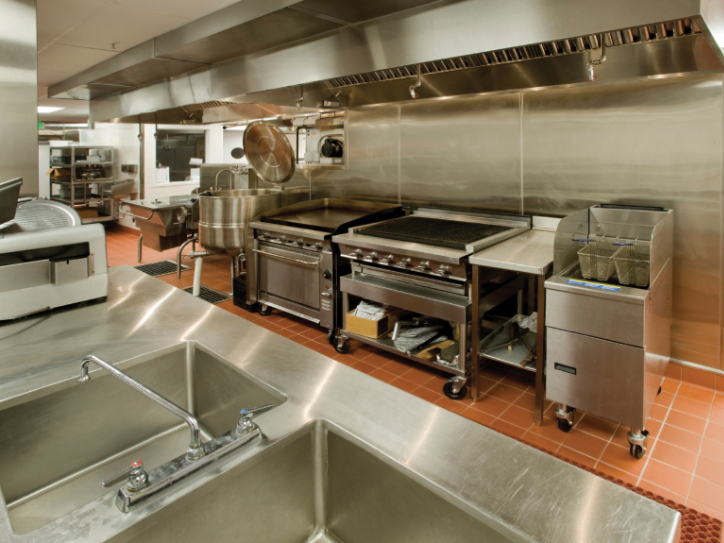 Leave the cleaning and de-greasing of your kitchen equipment to the professionals.
Tell Us About Your Hood Cleaning Requirements
Let's Look At Your Kitchen Equipment Together
Our Full Faith Quotes Are Always Free & Honored For 30 Days
Oahu Hood Cleaning – Let Us Tell You More About Our Business
Oahu Hood Cleaning is located on 1414 Ward Ave #C Honolulu, HI. For 15 years, we have provided professional kitchen hood cleaning for businesses around Honolulu such as Kaka' Ako, Kalihi-Palama, Pauoa, Kaliha Kai, Liliha-Kapalama, Nuuanu-Punchbowl, Fort Shafter, and other neighboring areas. We understand how important it is to keep your exhaust system in your commercial kitchen clean and working hard to provide high-quality services. We are an environmentally friendly company, and you can be sure that the NFPA approves all our methods and chemicals. At Oahu Hood Cleaning, we offer the best rates for hood cleaning, kitchen exhaust cleaning, and kitchen equipment cleaning. We value the safety of you and your customers and work efficiently to get the job done. With our team, it's not only about security but your time- we work during the off-hours of your restaurant, so your business operations are uninterrupted. There is no better grease busting company in Honolulu, Hawaii. 
Benefits of Oahu Hood Cleaning Services
We are a local company who understands the official standards of kitchen hoods in Honolulu. Our 15 years of service has taught us the value of regular kitchen hood clean-up to prevent fires and other hazards. Our team of professionals are conscious of the environment and follow all local guidelines strictly. We want to make our neighborhood a safe place by providing the best kitchen hood cleaning for restaurants and cafeterias. Our goal is not just to get the job done but to create a lasting relationship with our clients. 
Oahu Hood Cleaning Service Areas
Let's talk about Oahu Hood Cleaning Services in Oahu, Honolulu. These are the primary locations we provide kitchen hood cleaning, kitchen exhaust cleaning, and kitchen equipment cleaning in Oahu. Our service locations include: 
We also service the following zip codes: 96822, 96817, 96814, 96826 
Here is our physical address in Honolulu:
If you need to find us on Google, our primary business categories are Oahu kitchen exhaust hood cleaning services, kitchen exhaust cleaning, Flue cleaning, fan cleaning, kitchen equipment cleaning, exhaust fan degreasing in Oahu, Honolulu. 
For specific services in Oahu click the appropriate link:  
Kitchen Hood Cleaning In Honolulu, Hawaii
Restaurant Kitchen Hood Cleaning Oahu and its Tenets
If the exhaust system in your kitchen is not being cleaned on a regular basis, you might be risking a lot more than you think! You might think we're overreacting, but according to statistics, kitchen exhaust systems that are not being cleaned regularly are a lot more likely to cause a fire than well-maintained ones. Your best bet to reduce the risk of your restaurant kitchen catching fire is to have its exhaust system cleaned on a regular basis.
Call Us
If you don't believe us, you might be surprised to find out that regular cleaning of commercial kitchens performed by professionals is an official requirement from the National Fire Prevention Association (NFPA).
We Are a Certified Kitchen Hood Cleaning Company
To make sure that the kitchen hoods are cleaned properly, the NFPA requires that the cleaning is done by professionals. We value your trust and fully understand the importance of doing our job extremely well, which is why we only hire highly trained technicians who have a responsible approach to their work.
Restaurant Kitchen Hood Cleaning Oahu guarantees…
We guarantee that all kinds of cleaning services provided by our company are 100% professional and compliant with the current NFPA requirements and standards. If you choose us to clean your kitchen exhaust system, you can be sure that it will be squeaky clean. In fact, we will clean it down to the bare metal, as that's the recommended level of cleanliness that can provide maximum safety for your commercial kitchen.
Oahu Hood Cleaning is an environmentally friendly company, which means that all methods and chemicals used by our technicians are approved by respective authorities. We are not polluting the environment as we clean your kitchen hood, which is another reason to give us the job! So if you are searching for restaurant kitchen hood cleaning near me Oahu, then come look for us!
Professional Hood Cleaning In Your Commercial Kitchen
Restaurant Kitchen Hood Cleaning Oahu and its Importance

If you still aren't convinced that your kitchen exhaust system needs to be cleaned by professionals, let us give you some more reasons to consider.
1. You'll be investing in your business. Just like any other system, a kitchen hood needs to be maintained so that it can function properly. You don't really see what's going on inside the kitchen hood so you may think it's not important to clean it, but making sure that it's clean and well-maintained is definitely going to prolong its service years. In addition, a clean kitchen hood contributes to an overall cleaner work environment, which is crucial for the success of your business.
2. Your kitchen will be less exposed to fire risks. Despite your kitchen staff being professional and organized, your kitchen is still a place where grease may accidentally come into contact with fire. While most small kitchen fires can be successfully extinguished, they can become a much worse problem if they reach a kitchen hood that's covered with stale grease. If your kitchen exhaust system is cleaned regularly, it will not provide the perfect greasy environment for a fire to spread, making it a lot easier to contain and extinguish.
3. Clean kitchen hoods provide better airflow. Your kitchen exhaust system is primarily responsible for removing smoke and grease particles from the air, but it also takes care of the overall air circulation in the kitchen space. Kitchen hoods that are clogged up with grease are not able to function efficiently, which inevitably leads to a buildup of offensive odors and a hot, stuffy environment in your kitchen. Not only is that unhealthy for your employees, but it also makes your kitchen a nice spot for warmth-loving bacteria, and you definitely don't want that.
Let Us Take Care Of Your Kitchen Hood!
Now that you're aware of all the issues arising with a grease-filled kitchen hood, you must see the importance of cleaning it on a regular basis. However, you may still think that all of this only applies to kitchens in fast food restaurants, since they have a lot to do with grease on a daily basis. 
Restaurant Kitchen Hood Cleaning Oahu

This is not true, as even smaller establishments like cafeterias still have to get their kitchen exhaust system cleaned every once in a while. If you own a cafeteria, we'd be happy to assist you with the kitchen hood cleaning and remove all the grease and smoke residues from the kitchen environment!
Kitchen Hood Cleaning In Honolulu, Hawaii
Most kinds of cooking will leave behind some kind of residual buildup, whether it is smoke, grease, or maybe even ash if your restaurant uses a wood-burning oven. That's why it is so important to have the kitchen exhaust system cleaned on a regular basis, but how regularly should you have it serviced? 
Why hire Restaurant Kitchen Hood Cleaning Services Oahu?
According to the official standards, kitchen hoods that are situated above kitchen equipment that produces grease and/or smoke have to be cleaned once every three months. Kitchen hoods above cooking appliances that do not produce grease only require professional cleaning once a year. If you think that your kitchen exhaust systems could use some cleaning by now, don't hesitate to contact us!
Professional Kitchen Hood Cleaning
808 Hood Cleaning is a company that values not only your safety but also your time. That is why we are not only going to clean your kitchen hood professionally, but also do it during the off-hours of your cafeteria or restaurant, so that you don't have to sacrifice the working hours and potentially lose some customers. If you urgently need your kitchen exhaust system to be cleaned, we can be on the job in just a few hours as we are a local company.
Restaurant Kitchen Hood Cleaning Oahu says…

Don't risk the safety of your employees, customers, and the entire establishment by neglecting the cleaning of your kitchen hood. Just one call to us could be the difference between a little fire accident that is soon going to be forgotten and a disaster that ends up destroying your restaurant. Don't give any potential fires to spread and let us remove all grease from your kitchen hood today!
Responsible Professionals
Depending on what kind of equipment you have in your cafeteria or restaurant kitchen, it may be protected from accidental fires in some ways. However, we still believe that it is a better idea to have a professional team clean your kitchen exhaust system on a regular basis rather than expect your equipment to contain a potential fire on its own. 
Call Us
By having your kitchen hood professionally cleaned you're not only obeying the law, but also maximizing the safety of your employees and customers, which should be one of your top priorities.
GET A GUARANTEED CALL BACK
FROM THE OWNER
Free Estimates For Everyone In The Aloha State
Top 5 Things to do in Honolulu, HI
Whether you are a visitor or a resident to Honolulu, here are our 5 top things to do in Honolulu:
Go on a historic Pearl Harbor Tour. Enjoy a historical tour on some of the most popular Pearl Harbor sites such as the Pacific National Monument and the USS Arizona. This tour is a five-hour tour which includes a chauffeured transfer to the Pearl Harbor Visitor Center.
Try the Oahu Submarine Scooter Adventure. For all the adventurous at heart, this self-propelled electric underwater scooter ride will give you the adrenaline rush you desire. For two hours, cruise past Diamond Head Crater and then dive under the surface and enjoy aquatic creatures from fish to turtles.
Go on the Oahu Shark Dive. Take your shot at a close-up encounter with sharks from an underwater shark cage. This thrilling cruise not only lets you dive with sharks, but you can also spot turtles, dolphins and humpback whales on route to your shark-viewing spot.
Enjoy the Oahu Grand Circle Island Day Tour. This tour is a whole day tour that will last about 8 hours. The full-day guided tour takes you around the island of Oahu by coach from Waikiki. You also get to visit the exquisite Byodo-In temple and stop at some famous beaches like Waimea bay.
Swim with Dolphins and Turtles on the Oahu Snorkel Cruise. If you want to enjoy nature from a safe distance, then this is a good option. This cruise lets you swim within safe viewing distance to dolphins and sea turtles. Glide along with colorful fish while observing dolphins and sea turtles in their natural habitat.
GET A GUARANTEED CALL BACK
FROM THE OWNER